Show report: Professional MotorSport World Expo 2013
With dozens of new product launches, record visitor numbers, delighted exhibitors and a glittering Awards Dinner, Professional MotorSport World Expo 2013 was a huge success.
"It's very useful that so many different companies from across Europe are together in one place," explained show visitor Thomas Hanisch, managing director of the innovative VLN and Nürburgring 24-hour team, Tuning Akademie. "That gives you a very good overview of the latest technologies. Another important point for us is that there are many familiar faces here from the Nürburgring, so the networking aspect works very well."
On the Bosch stand, representatives from the company's North American business and Michigan-based Pratt & Miller were on hand to discuss the new Collision Avoidance System that was named Motorsport Technology of the Year at the gala dinner at the end of Day 1. Volkswagen Motorsport's technical director, Willy Rampf, also attended to pick up the WRC-winning team's Race Car of the Year and Motorsport Team of the Year trophies.
From France, returning exhibitor Stand 21 brought a raft of new racewear products to Cologne ahead of the 2014 season. A headline act was the new Lid Lifter, a simple but potentially life-saving device to help remove a driver's helmet in the event of an accident. Additional, elastic material over the top of a balaclava ends in two handles that can be used by rescue personnel to slide the helmet up and off the head without flexing – and potentially damaging – the driver's cervical vertebrae.
Another safety innovation, this time still at the prototype stage, was a focus of attention at Capricorn Automotive's stand. The company already builds the FIA-approved FOCS system for quickly removing a section of rollcage to aid driver entry and egress. Now it wants to extend the principle to the seat mounting so that marshals can quickly extract injured drivers, still in their seats, from a crashed car. At least a year of further development, not to mention the approval of the relevant safety authorities, will be required before the system can enter production.
Titan made a splash at the show with its brand-new range of throttle systems. Key features are the carbon-fibre trumpets made exclusively for Titan using resin transfer moulding; the weight saving amounts to about a kilo across a four-cylinder engine. "The show's been great for us," said Titan's sales and marketing manager, Zoe Timbrell. "The stand was packed even on the first morning."
Timbrell's enthusiasm was echoed by another company from the UK, first-time exhibitor, First Sensors. Managing director, Sol Barnett, commented: "Compared with other shows we've done, there are more people here who are interested in buying, rather than just looking." Barnett was able to tell visitors about new sensor products for tyre and brake temperature measurement, both of them first developed in conjunction with a Formula 1 team.
Other attractions on the show floor included the three-day programme of free-to-attend workshops in English and German. The hugely popular sessions included presentations from the likes of Renault F1, Porsche and Motorsport Engineer of the Year-winning Axel Löffler from Audi Sport; many were standing-room only. "The presentation was interesting and inspirational," was the verdict of two-day show visitor, Daimler engineer and keen karter, Niklas Pettersson, on a session run by Chris Pullman of Buckmore Park Karting.
"The feeling is similar to in previous years here," concluded Michael Grassl, responsible for motorsport sales and technical support at KW Automotive. "Particularly for us, being heavily involved in touring and endurance cars, it's a great opportunity to meet the team directors and race engineers. Here, nobody asks you for a pen or a sticker – you get technically orientated questions and you know that the knowledge level of the visitors is high."
---
Rally car revealed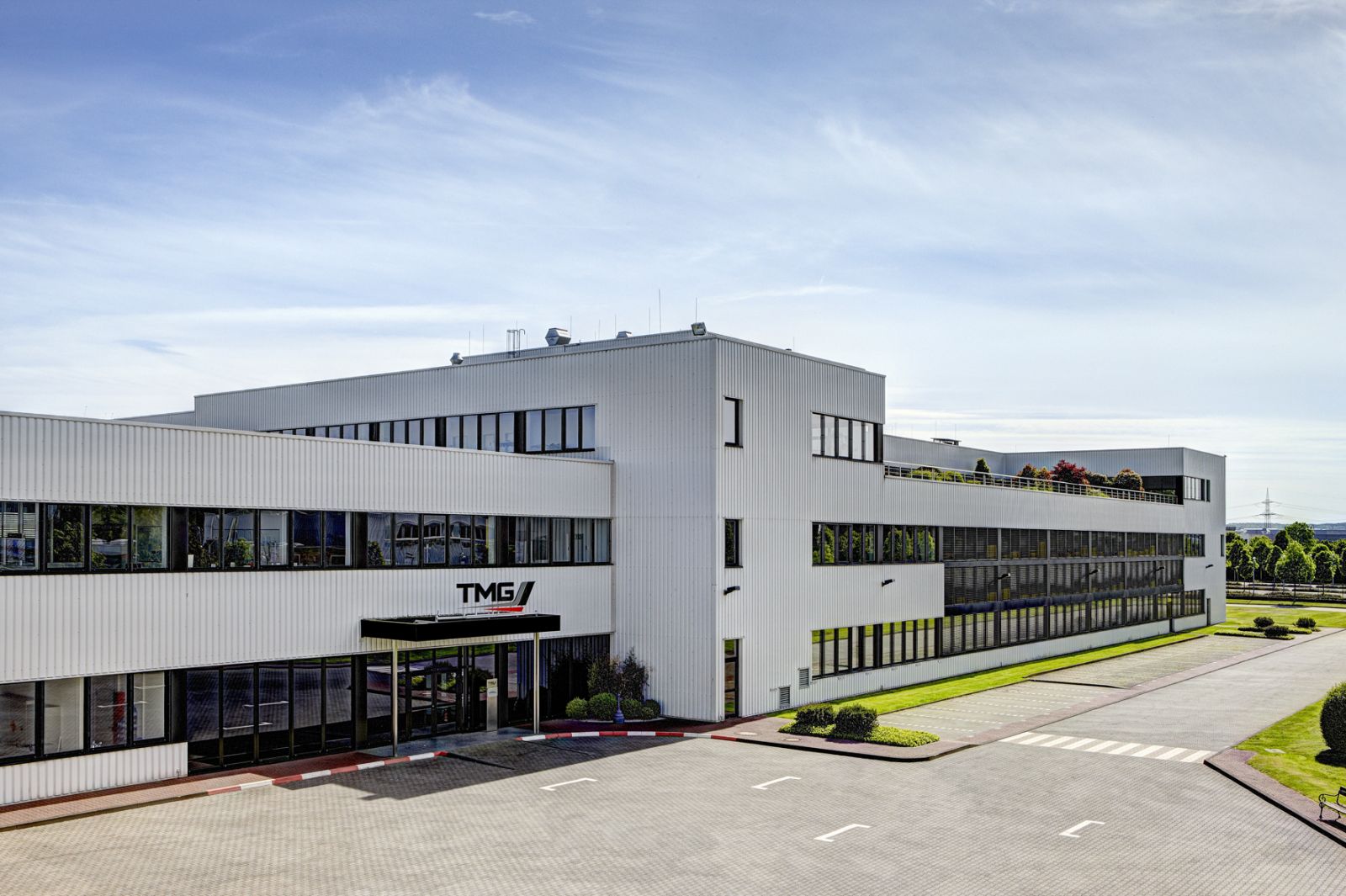 Expo exhibitor Toyota Motorsport GmbH (TMG) announced it will develop a GT86 R3 rally car as part of its customer motorsport program. The rear-wheel drive sports car will be converted to R3 specification and made available to private competitors, with delivery expected for the 2015 season. The car, which will be known as the TMG GT86 CS-R3, will have a six-speed sequential gearbox, limited slip differential, modified engine, adapted brakes and other upgrades. Drawing on the experience of developing the TMG GT86 CS-V3 race car for the Nürburgring-based VLN series, TMG engineers will modify the base car to the maximum level permitted within the regulations. The TMG GT86 CS-R3 is eligible for all FIA-sanctioned rallies, up to and including the World Rally Championship.
New Ride Height Laser Sensor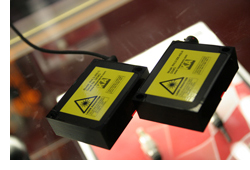 Making its debut at PMW Expo was KA Sensors' Model RHL3 ride height laser sensor. It featured a small-diameter visible laser that is reflected off the track surface to a precise CCD detector, which then determines the vehicle's height off the ground. Available in two measurement ranges, the RHL3 is said to be ideal for anything from karts to rally cars, single-seaters to NASCAR. An operating temperature of up to 110°C ensures reliability when operated in close proximity to engine or gearbox installations.
Safety Belts Unveiled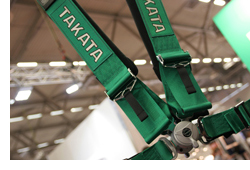 Japanese motorsport safety belt specialist, Takata brought two new models to this year's show. The German-made Race Pro and Race Pro 6 belts were showcased to visitors in Köln Messe's Hall 7 alongside Takata's wider range of belts and accessories. Further additions to the portfolio include 2in and 3in belt shoulder padding for extra comfort, as well as two lines of seats for racing and the automotive aftermarket.
Prototype Clutch On Display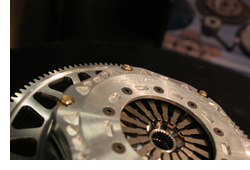 PMW Expo exhibitor, Helix Autosport displayed a prototype racing clutch and lightweight steel flywheel kit for the Toyota GT86-R. Designed to have the lowest center of rotation of any of Helix's kits, the product has been successfully tested ahead of an imminent production launch. "We have removed an additional 10% of weight in comparison with cast alloy clutch covers," commented Helix design engineer, Alexander Champion.
Flexible Data Logger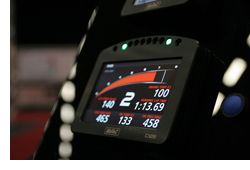 Motec showcased its new C185 data logger with color display and configurable auxiliary control, at this year's show. Motec says its new data logger has the flexibility to suit virtually any application. The 125mm screen is high-resolution, ultra bright and anti‐reflective, ensuring the clearest possible view, even in unfavourable light conditions like direct sun. Users can select from numerous supplied layouts, each with crisp, high-contrast graphics in various color combinations. Within these layouts, the channels, labels and measurement units are all configurable. The C185 also features 10 built-in, high-intensity LEDs for use as shift lights, warnings or other driver alerts. Each light is independently programmable. It comes standard with 250MB internal logging memory, which can be upgraded to 500MB at any time, allowing for approximately 14 hours of professional level data recording.
Throttle Range Launched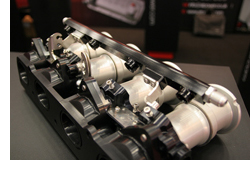 AT Power seized the opportunity at this year's Expo to launch its new Classic Clubman range of throttles and management system. The all-new product offering, AT Power says, has been born out of the ever-increasing need to drive prices down by the consumer. The kit utilizes the company's shaft-less DCOE pattern throttles fixed to a billet-machined aluminum manifold and is available for a whole range of engines. It comprises a billet-machined manifold; a four-cylinder set of DCOE throttles; a billet machine fuel rail; a linkage assembly left-right or right-left; four extension tubes from AT Power's standard range of lengths 70,100 or 130mm long; and a ram pipe from the standard range of lengths 40 and 60mm long. The kit comes fully assembled and vacuum balanced.
New Saver Cell Cap and Revamped Internal Collector System
Two new fuel system products took pride of place on Aero Tech Laboratories' (ATL) booth. This included its new Saver Cell cap, which is made from billet-machined aluminum. The product is lightweight and has a quarter turn for quick release. Designed for ease of use with comfortable grip, ATL has also improved the seal. Meanwhile, the company has also revamped its Internal Collectors. One-way trap doors and guiding vanes, direct and trap fuel under acceleration and cornering force, yet retain fuel under braking forces. They can be retrofitted into any ATL saver cell (from 30-liters to 170-liters) and supplied with single or double quick-release pump mount straps for quick and easy pump installation and removal. Each collector has a 3-liter capacity.