2012: The best show yet!
"Last year's Professional MotorSport World Expo was the best yet," said Tony Robinson, CEO of UKI Media & Events, the international exhibition company and publisher that organises the Cologne-based event. "Preliminary visitor numbers show that over 7,000 motorsport professionals attended the show, which featured over 250 exhibitors from all over the world, each showcasing the very latest race technologies, components and services."
Indeed, numerous leading motorsport suppliers used Professional MotorSport World Expo 2012 to launch pioneering technologies, with the likes of Recaro debuting the P 1300 GT racing seat, claimed to be the first length- and tilt-adjustable shell to meet the latest FIA 8862-2009 standard. Other notable product launches from the 250+ exhibitors included OMP's new range of breathable race wear, GEMS' DA2 micro data logger, a custom brake and clutch line service from Viper Performance, Lazer Lamps' new LED lamps, and Recticel's high-tech, safe and easily transportable alternative to straw bales, the SafeGuard Bale.

Robinson summed up the event: "We are really excited with the way the show has developed. We have an excellent range of international exhibitors covering pretty much every facet of motorsport. Most important is that the show always stays true to what we promised at the start: it's the motorsport show for motorsport people and we don't encourage the general public to come here. It is a special environment and getting better every year!"

Professional MotorSport World Expo 2013, to be held in Cologne from 12-14 November 2013, already looks set to be even bigger and better, with more exhibitors and even more innovation expected.
Sliding seat unveiled
Making its world debut on Recaro Automotive's booth at the show was the P 1300 GT racing seat, claimed to be the first length- and tilt-adjustable shell to meet the latest FIA 8862-2009 standard.
Designed for long-distance events requiring driver changes, the base permits the seat to be adjusted lengthways by up to 130mm via tracks on the side of the seat, thereby maintaining a low mounting position and potentially assisting rescue crews in extracting a driver after an accident. During installation, a tilt variation of up to 3° can also be set and in a further measure to accommodate drivers of different heights, removable pads (in three different, color-coded sizes) can be swapped in and out via Velcro fixings.
Elsewhere on the stand, Recaro was showing the Pro Racer SPG and SPA models – both now available with an adapter to provide 240mm of lengthways adjustment – and an XL-sized version of the 8862-2009-homologated Pro Racer Ultima seat, suitable for large drivers.
Racewear innovations
One of the most distinctive stands at PMW Expo was again OMP's racewear trailer at the rear of the exhibition hall. For 2013, the Italian company is presenting a bundle of new innovations and products, principal among which is the patented 'Dry System'. By creating strategically selected areas to be highly breathable, this system is claimed to drastically reduce body heat and thereby improve driver performance.
The breathable inserts, which are available in OMP's 'One' racesuits, work in conjunction with One Underwear, whose three-dimension components reduce the number of seams. Other additions to the 2013 range include a collection of One Shoes and a One S glove with differentiated palm grips for better feel.
Data logger launch
Following on from the popular DA1 data logger, GEMS chose PMW Expo to present its next generation of micro data logger, the DA2, for the first time. With an option of 256MB or 2GB logging memory, increased download speed and driverless PC interface, the DA2 builds on GEMS' experience of data longing in environments from circuit racing to Dakar.
Also new at the show was the PM3 power management module. While carrying over key features of the earlier PM1 unit, which has served championship winning teams in ALMS and PWRC, the new model is smaller and lighter than before, and fitted with a new Positronic connector to provide a cost-effective option for teams that don't require an AS-style connector.
More product debuts
UK-based Viper Performance was back at PMW Expo with a host of new products. The line-up included aluminum universal breather tanks, which combine a catch and breather outlet into one. Available in a polished mirror finish or black, the 550ml tank features a 1/8in NPT thread at the bottom connected to a drainage valve that can easily be removed to use the NPT thread as a return or remote drain. The top port suits all lines and the third port on the side connects to a breather filter.
Viper also showcased its new custom brake and clutch line service. Bespoke stainless-steel braided hydraulic lines can now be made to customer specifications, with the stainless-steel braiding encapsulated in a thick PVC cover that's available in a number of colors.
DTM clutch a racing success!
ZF Race Engineering was one of a number of exhibitors who had new technologies shortlisted for PMW Expo Awards. But while ZF's clever new anti-stall clutch missed out in the Motorsport Technology category, another of its products played its part in two other awards: DTM as European Race Series of the Year, and HWA as Team of the Year.
ZF is an official supplier to the DTM, providing race clutches to every car on the grid, as well as an 'Official Partner' of championship-winning BMW Motorsport. ZF Race Engineering resolved a complex task for the 2012 season: reliably transmitting the 500PS engine's torque, ensuring long service intervals, and simultaneously satisfying strict cost limitations defined by tender.
To achieve the targets, ZF Race Engineering combined various elements of its modular systems to form a new clutch. The Formula Carbon Clutch 4/140Y is a member of the Racing Clutch Systems (RCS) family. It's equipped with four friction plates to handle up to 900Nm, with triple the service life of the preceding model. As a consequence, an entire DTM season can be covered with a single clutch per car providing there's no overloading due to misuse.
Lightweight vehicle ramps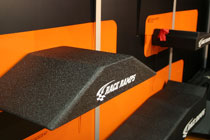 Newly available in Europe are Race Ramps, a portable vehicle lifting system made for a state-of-the-art, lightweight, high-density foam. The resulting ramp is rustproof and weighs just 7kg, but is strong enough to lift a 2.7-tonne vehicle up to 35cm off the ground. Applications include gaining access to the vehicle's underside, or extending the length of trailer ramps to decrease the approach angle. "Thanks to their simple interconnecting design, they can build into a portable pit-stop," said Stephanie Beerens, managing director of Race Ramps Europe. "They can also be customized into the team's livery."
DeltaWing engine on display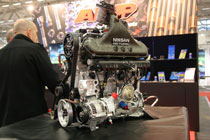 Centerpiece of the display booth of fastener specialist, ARP Inc was the turbocharged, direct-injection DIG-T engine fitted to the radical DeltaWing sportscar that turned heads at Le Mans in 2012. ARP has been coming to PMW Expo for five years now and is back with a number of new product releases in 2012, including main bolt and head stud kits for Porsche 3.4-3.6-liter engines, MINI 1.6-liter fastener kits, and BMW 2.8 and 3-liter rod bolt kits. All are available for immediate delivery.
Show debut for Lazer Lamps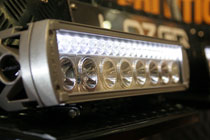 Surely the 'brightest' new technology on show in Cologne this year were the LED units from Lazer Lamps. A first-time exhibitor, the company was formed in 2010 and has spent two years developing its products to the point where it has now secured EU approval for road use. This opens the doors to the lights being used for road rallying, as well as endurance and off-road rally applications.

"We're here to show people a new way of lighting for dusk, dawn and night-time racing," said Lazer Lamps' sales manager, William Rhodes. "These units are small-packaged and very powerful."

Designed and manufactured in the UK, Lazer Lamps' lighting pods use less power than traditional HID or halogen alternatives. The biggest unit available, the T16, features 16, 10W LEDs that consume a total of 13A at 12V. The light provided is just under 14,000 lumens, the equivalent of nine 9in halogen spotlights.

Lazer's LEDs have already been used by teams in the Britcar 24h race and will supply the lighting for the Race2Recovery team's Wildcats and support trucks during the 2013 Dakar Rally.
Straw-bale alternative revealed
Making its show debut was the latest product from racetrack barrier specialist, Recticel. As a result of numerous enquiries from customers, the company has developed a modern alternative to the traditional straw bale. Made from fire-retardant foam and finished with an additional retardant spray coating, Recticel's Safeguard Bale is said to provide a more consistent, longer-lasting, light and more aesthetically pleasing straw-bale replacement.

The Bale is available in black or grey and comes in a standard length of 2.4m with a 30cm depth. Custom sizing is possible however, and Recticel has already supplied 5m lengths to Oulton Park in the UK, where the Bales are bonded to a plywood backing along the pit wall. Sales manager, Colin Harrold explained that the Safeguard Bale can be glued back together if it splits, and should last at least three racing seasons unless repeatedly damaged by impacts.

Approval has already been secured from motorcycle governing bodies the ACU and MCRCB, with FIM categorization expected to follow. "People do not like straw bales," he said. "They're bought in April and thrown out in November. The Safeguard Bale provides an alternative, and we're in no doubt that the product will evolve."
F1 fuel tank on show
Catching the eye on ATL's booth was a cutaway from a 2004 F1 fuel cell, providing rarely shown insight into this most high-tech of applications. Co-director Kevin Molloy explained that the 5kg tank is made from FIA-standard FT5 Kevlar (external walls) and FT3 (internals). It takes around 120 man-hours to build thanks to an intricate internal network of vents, baffles and valves.
"We're at the show to meet existing customers and show people what's new," said Molloy, whose company supplies all 12 F1 teams, the new Foxhound vehicle for the British armed forces, and a turnkey fuel system for the McLaren GT3. "We've recently enlarged our fabrication facility so we're promoting that side of the business, too."
Bespoke transmission solutions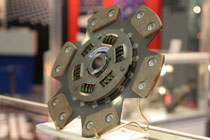 Helix Autosport was at the show with a range of bespoke, uprated clutch and lightweight flywheel kits to suit dozens of motorsport applications. Popular kits supplied for road and racing applications over the past year include items for the Ford Focus RS, MINI Cooper S, Toyota GT86 and Porsche 911. For 2013, the company will continue to work closely with trackday car tuners and manufacturers, and kit-car makers.